Jurassic World: Dominion Dominates Fandom Wikis - The Loop
Play Sound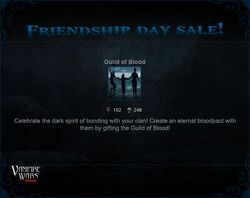 The Friendship Day Sale was a 72-hour Sale that took place between Friday August 3rd 2012 and Sunday August 5th 2012. The majority of the sale revolved around Abilities and Familiars sold for Favor Points.
Tribute Sale Abilities
One new Ability could be purchased only available during the sale.
Retired Familiars
Several retired sets of Familiars were made available again during the sale, giving players a second chance to get ones they might've missed the first time. Every six hours a new Set would appear, replacing the last Set.
Bundle Sale

Every few hours 1 new Bundle would appear, only a few bundles were available. Each Bundle appeared only once. There were no bundles available on the second day of the sale.
| Set | Abilities | Time | Set Cost |
| --- | --- | --- | --- |
| Burnt | Blood Burn, Cast Flame Shield, Cloak of Fire, Command Fire Beast, Summon Fire Guardian | Day 1: 3am - 8am | 140  |
| Astronomy | Cloak of the Moon, Obscure Sun, Shroud Sun, Starwalker, Suneater | Day 1: 8am - 3pm | 125  |
| BloodGroups | Blood Burn, Blood Combustion, Blood Craft, Blood Freezing Gas, Extreme Bloodlust | Day 3: 9am - 3pm | 125  |
| CastingCouch | Cast Flame Shield, Cast Hallucinations, Cast Lightning, Cast Polymorph. Cast Time Warp | Day 3: 3pm - 9pm | 100  |
| Unreleased | Bat Cupid, Blood Craft, Fang Rip, Invisible Mail, Touch of Paralysis | Day 3: 9pm - 3am | 215  |
* All times in Eastern Timezone
Backstory
Calling for the demons of darkness!! Celebrate the Friendship's Day by strengthening your bond with your clanmates. Get this Limited Edition Special Ability Guild of Blood and gift your clan to make the bloodpact stronger than ever!!
Celebrate the dark spirit of bonding with your clan! Create an eternal bloodpact with them by gifting the Guild of Blood!
History
On 27 April 2011 the General Assembly of the United Nations declared[5] 30 July as official International Friendship Day. However, some countries, including India,[6] celebrate Friendship Day on the first Sunday of August.
See also: Sale Events, Friendship Day Sale