Welcome to the

where
anyone
can contribute their knowledge of
Zynga's
Vampire Wars
for the benefit of the community.
The Official Vampire Wars Blog:
Vampire Wars's Facebook Wall: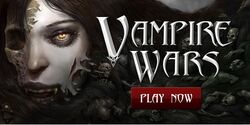 Featured article
Blood Magic Would you like to play a game? I'm Mandy, and blood is my specialty, but I won't do anything unless it's fun. Spin The Wheel and see what you get. You have to pay to play… in blood, of course. I'll need that blood to work my magic. Win big and it's good times all around for you and your clan. Be warned, though, you could spin a Curse.
Featured media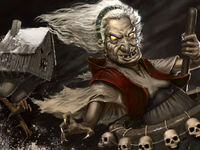 A photo of the boss Baba Yaga
Newest Articles
These are the newest articles that have been added. Please ensure that they are named properly and do not duplicate any existing articles.
A Message from the Editor